Contents

[Language Grid Toolbox Hosting Service Launched]



[Language Grid Toolbox New Functions]



[Monthly Maintenance for February]



[Language Grid Users] Future University-Hakodate


The Language Grid Toolbox Hosting Service was started on December 16, 2009. The service provides an exclusive Toolbox for each of the organizations that use Language Grid. This service has the following features:
 
- You can manage users and operate the multilingual bulletin board system (BBS) according to your preference without having to set up a Toolbox server on your own.
- Updates on Toolbox will be simultaneously applied to your hosted Toolbox.(Data on your Toolbox will not be lost by updating.)
- You can send us your request to customize the message on a top page, your group's logo, and your Toolbox site style.
 
The hosting service will be available until the end of March. If you can set up your own server and wish to continue to use the Toolbox to the full extent, please transfer the operation of your Toolbox to your server. However, if you cannot set up your own server and wish to continue to use the Toolbox, you can extend the use of our hosting service by one year.
 
The following organizations have been using our hosting service:
 
[Universities and Research Institutes]
Kansai University, Kyoto University of Foreign Studies, Advanced Scientific Technology & Management Research Institute of KYOTO (ASTEM), The Kyoto College of Graduate Studies for Informatics/Kyoto Computer Gakuin, Kyoto University, Tokyo University of Foreign Studies, Ryukoku University, Ritsumeikan University, Waseda University, Copenhagen Business School
 
[Non-Profit Organizations]
Center for Multicultural Society Kyoto, Pangaea, Japan Education and Resource Network (JEARN)
 
[Companies]
House Saison, Kyoto Information Card System
 
[Others]
Kodaiji Temple
 
For details on our hosting service, including information on how to apply and our terms of use, please visit this site.



In our Language Grid Toolbox, a variety of modules for multilingual communication are running on the framework established by NICT. By developing a module by themselves, users can add a new function to the Toolbox. Currently, Kyoto City, Kyoto University, and NICT are developing new modules, which will be added to the Toolbox in mid-January.
 
- Multilingual Q&A Creation (developed by Kyoto City)
This function is similar to language resource creation such as dictionary and parallel texts. You can create question-answer pairs (Q&As) in multiple languages.
 
- Multilingual Q&A Web Interface (developed by Kyoto University)
Users can post questions to a community on a website. The community using the Toolbox will hold discussions over the questions posted on the website. The questions and answers will be stored in the Multilingual Q&A Creation, and users can search for these questions on the website.
 
- File Sharing (developed by NICT)
Users can share files within a community.
 
- User List (developed by NICT)
Member list of a community can be viewed.
 
- User Profile Definition (developed by NICT)
Users can customize the items of a user's profile according to their community's preference. For example, if your community is in a university, you can set "graduate school,""department," and "course" as items to identify the members.  
 The functions will be made available first in the Toolbox's trial site and our hosting service. After reflecting users' opinions in the Toolbox, we will release the official version.

 


The next maintenance of the Language Grid will be conducted on Monday, February 1, 18:00-21:00 JST.
If you wish to use the Language Grid during this period, please contact us in advance at operation [at] langrid.org.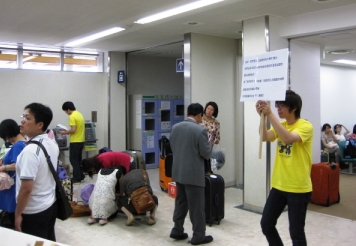 Survey for tourists from abroad at Hakodate Airport

Future University-Hakodate: Project-based Learning, Hakodate Tourism Project
 
At the Future University-Hakodate, we conduct a one-year course where junior students carry out a project in a group with several supervisors. One of the projects carried out in the academic year 2009-2010 aims to provide tourism information on Hakodate in Hokkaido through the Language Grid. Tourism is one of the major industries in Hakodate, and many tourists are attracted to its night landscapes, seafood, historic architecture, and hot springs. However, the number of tourists visiting Japan is gradually decreasing.
We expect to increase the number of tourists mainly from Asian countries, including Taiwan, Korea, and China, but we have not been able to provide sufficient information for tourists in foreign languages. We conducted a survey, as can be seen from the photograph, on the kind of information that tourists from abroad require. We are now developing a system to semi-automatically translate the required information in Japanese into other languages. We aim to implement this system in Hakodate's official tourism site called "Hakobura" in the near future.
 
(Supervisors: Yasuhiro Katagiri, Atsushi Fujita, Hitoshi Matsubara)